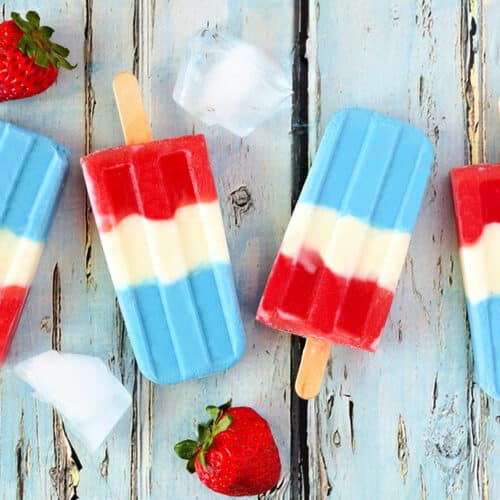 Nutrition Facts
Red White & Blue Popsicles
Amount per Serving
% Daily Value*
* Percent Daily Values are based on a 2000 calorie diet.
Ingredients:
2

cups

strawberries

whole, fresh or frozen

berry stevia

2

cans

whole fat coconut milk

vanilla stevia

Natural Blue Food Dye

(made from purple cabbage, found online or in health food stores)
Directions:
Blend strawberries with 1-2 tablespoons of water in a blender. Add a few drops of berry stevia to taste for sweetness.

Pour one can of coconut milk into a small bowl and add a few drops of vanilla stevia to taste for sweetness. Whisk to make a smooth cream.

In another small bowl combine the second can of coconut milk with a few drops of berry stevia to taste for sweetness as well as a few drops of natural blue food dye. Whisk to make a smooth cream.

Divide the strawberry blend equally among your popsicle molds filling 1/3 full. Freeze about 20 minutes.

Divide the vanilla coconut milk evenly among the molds filling a second 1/3 and freeze another 20 minutes.

Finally, divide the blue berry coconut milk among the molds filling the final 1/3 and freeze at least another 3 hours.
Notes:
The type of blue dye used in this recipe is made from boiling purple cabbage in water. The cabbage is removed and the colored water is reduced to a dark purple liquid to which baking soda is added, resulting in a change of color to blue. You can find these natural colors easily in health food stores or online.
___________________________
Did you know that we have supplements for kids? Essential vitamins and minerals for your little ones to promote healthy growth, activity, learning, and behavior. Formulated by my husband, Daniel Amen, MD in the form of kid-friendly chewable tablets.
You can find those

here

.
Don't forget to use the code TANA21 for 21% off your first purchase from BrainMD (make sure you have an account and are signed in to use this offer).