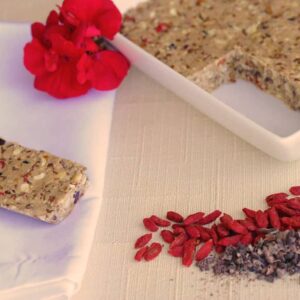 Nutrition Facts
Omni Grainless Granola Protein Bars
Amount per Serving
% Daily Value*
* Percent Daily Values are based on a 2000 calorie diet.
Ingredients:
2

tbsp

cacao butter

1/2

cup

raw pumpkin seeds

1/2

cup

walnuts or cashews

1/2

cup

shredded coconut

raw unsweetened

1/2

cup

almond meal

1/4

cup

chocolate flavored pea protein

sweetened with stevia

1/2

cup

raw sunflower seeds

1

tsp

cinnamon

1/4

tsp

cloves

1/2

tsp

ginger

1

tsp

pure vanilla extract

2

tbsp

macadamia nut oil

1/4

cup

honey

1/4

cup

erythritol

2

tbsp

70% cacao

non dairy chips (or unsweetened carob chips)

2

tbsp

dried goji berries or mulberries

1/4

tablespoon

coconut oil
Directions:
Preheat oven to 350°F.

In a small sauce pan, melt the cacao butter over low heat. Note: bars will not hold together without the cacao butter. Coconut oil is not a good substitute. If I can't find cacao butter in my local health food store then I usually order it from Amazon or another online store.

Using a food processor, grind the pumpkin seeds, nuts, and coconut until you achieve the texture of a coarse flour. Place mixture in a large bowl.

Add almond meal, protein powder, sunflower seeds, cinnamon, cloves, and ginger to the bowl. Mix. The mixture will be thick, so you may need to use your hands to mix it thoroughly.

Add vanilla, oil, and cacao butter. Mix well with a fork or rubber spatula.

Add the honey and erythritol and mix well.

Fold in chips and berries and mix well.

Lightly grease a baking pan with coconut oil (or use a nonstick baking pan). Press the mix into the pan until it is even on all sides. Bake for 10 to 15 minutes or until lightly golden.

Refrigerate for 30 minutes, then take mixture out and bring to room temperature. This allows the cacao butter to harden again so bars will hold together.

Remove from baking pan cut into 12 bars.
Notes:
These delicious bars can be made in advance and hold up well when stored in the refrigerator. If you are not allergic to eggs, you may choose to cut fat in half and increase the protein by eliminating the cacao butter and add 4 egg whites.
___________________________
If you are looking for a vitamin to add to your daily routine, our Neurovite Plus is the first and only daily multivitamin that contains over 50 powerful vitamins, minerals, and plant extracts developed through clinical studies. NeuroVite Plus was formulated to provide whole-body wellness with additional key brain-healthy nutrients.
You can find this

here

.
Don't forget to use the code TANA21 for 21% off your first purchase from BrainMD (make sure you have an account and are signed in to use this offer).