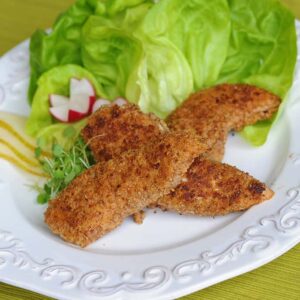 Nutrition Facts
Guiltless Chicken Breast Tenders with Honey Mustard Sauce
Amount per Serving
% Daily Value*
* Percent Daily Values are based on a 2000 calorie diet.
Ingredients:
1

teaspoon

sea salt

1/2

teaspoon

pepper

if desired

1/2

teaspoon

garlic powder

1

cup

almond meal (or gluten-free flour)

or you may grind almonds finely in the food processor

1

pound

chicken tenders

free-range, hormone-free, antiobiotic-free

1

egg

lightly beaten, organic, Omega-3

2

teaspoons

coconut oil

1

tablespoon

gluten-free mustard

(optional)

1

teaspoon

raw, unfiltered honey

(optional)
Directions:
Main Instructions:
Preheat oven to 375 degrees F.

In a bowl, mix sea salt, pepper, garlic powder, and almond meal and blend well with a fork.

Dip the chicken pieces in the egg, coating both sides. Immediately dredge in the almond meal mixture, covering both sides completely.

Place chicken on a baking sheet. Cook for about 12 minutes, being sure to turn chicken over after 6 minutes.

Allow to cool for several minutes if serving to children.
For Crispy Tenders:
Chicken tenders will not be crispy. If you are used to fried chicken tenders, you may want to finish with this extra step.

Heat 2 teaspoons of coconut oil in a large skillet over medium-high heat. When skillet is hot, add half of the baked tenders to the skillet. Cook for about 30-60 seconds per side, depending on desired crispiness.

Remove tenders and repeat process for remaining chicken tenders.
Honey Mustard Sauce:
Consider serving with a honey mustard sauce.

Mix 1 tablespoon of gluten-free mustard with 1 teaspoon of raw, unfiltered honey*.
Notes:
*Raw, unfiltered honey is not appropriate for children under 2 years of age. Use pasteurized honey in recipes that will be fed to children under 2.
___________________________
If you are looking for a clean and fast-acting energy source for peak brain and body performance, you need to try our Brain MCT energy supplement. This is a liquid that can also assist with maintaining a stable weight. By enhancing satiety, which restrains appetite and promotes fat burning, MCT can be helpful for curbing unhealthy eating and stabilizing body weight.
You can find this product

here

.
Don't forget to use the code TANA21 for 21% off your first purchase from BrainMD (make sure you have an account and are signed in to use this offer).