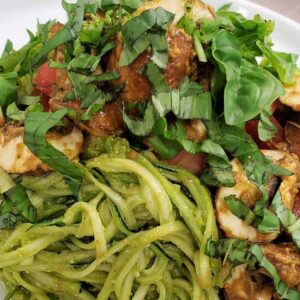 Nutrition Facts
Easy Squash Pasta
Amount per Serving
% Daily Value*
* Percent Daily Values are based on a 2000 calorie diet.
Yield:
2
(side dish portions)
Ingredients:
For the Pasta:
1

large

zucchini

(or yellow crookneck squash)
For the toppings:
1

cup

cremini mushrooms

chopped

1/2

cup

Roma tomatoes

diced

1/4

cup

basil

chopped, fresh
For the sauce - Quick Toss option:
2

tablespoons

extra-virgin olive oil

2

tablespoons

lemon juice

1

pinch

sea salt
For the sauce - Quick Blend Pesto option-
1

cup

basil

fresh leaves

1/2

cup

extra-virgin olive oil

1

clove

garlic

1

pinch

sea salt
Directions:
First with a vegetable peeler or julienne slicer make squash "ribbons" by peeling lengthwise along the squash so small thin pieces come off. If you have a julienne slicer or a mandolin with a julienne slicer you will get a more specific shape for your noodle but both are delicious in this recipe. Add these "noodles" to a mid-sized mixing bowl.

In a separate small mixing bowl add the quick toss sauce and whisk together. If you prefer the pesto, blend this before adding 1/2 cup to the bowl.

Add in the toppings for the pasta, save the basil and toss with the sauce in the same bowl.

Then transfer the mix of sauce and toppings to the bowl with the pasta and toss well.

Serve your fresh mix on a plate with the fresh basil garnish.

Enjoy!

Pro Chef Tip: If you plan to make the components of this meal in advance to take along to work or on an outing, for best results package the noodles separate from the toppings and sauce. Toss them together right before serving to prevent the squash from getting too soft or watery. If you are prepping in advance for the week the "noodles" will last 3-5 days in the refrigerator before tossing and make a great base for a quick meal throughout the week!
Notes:
Boost your vitamins and minerals plus reduce your grain intake by swapping out your traditional pasta for fresh squash pasta! This is an easier switch then you might think and doesn't require any fancy tools, if you have a basic vegetable peeler you can accomplish this dish in just minutes. I have included a few options for you here as well, so from week to week as time permits you can try different versions of this simple add in for your weekly meal plan.
Squash is know as the "perfect" vegetable based on the ratio of hydrating water content to fiber and available nutrients so it is a perfect base for plant based dishes like this one! Be sure to include the skins of the squash so you can also benefit from the oxygenating chlorophyll they contain, especially zucchini! Even the basil garnish on this dish can boost your health by reducing inflammation in your body- flavor and function, gotta love mother nature!
___________________________
Did you know that most people don't get the proper amount of Vitamin D3? Especially in the winter, this is a vitamin that the body readily converts to a hormone that is important for the brain, heart and circulation, immunity, bone, muscle, lung, joints, kidneys, and overall vitality. I take this every single day!
Click

here

to read more about our BrainMD Vitamin D3 5000 and add it to your cart today!
Don't forget to use the code TANA21 for 21% off your first purchase from BrainMD (make sure you have an account and are signed in to use this offer).