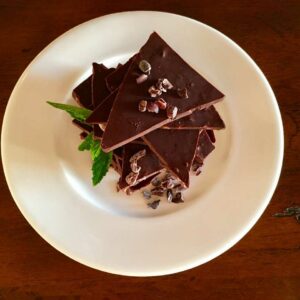 Nutrition Facts
Crunchy Chocolate Mint Thins
Amount per Serving
% Daily Value*
* Percent Daily Values are based on a 2000 calorie diet.
Ingredients:
16

oz

chocolate

sugar free, dairy free (Lily's brand is good or Brain In Love bars)

1/4

cup

coconut oil

1/2

cup

raw cacao nibs

1/2

teaspoon

salt

2

teaspoons

peppermint oil

1

teaspoon

vanilla extract
Directions:
Line a standard cookie baking sheet with parchment paper.

Melt the chocolate with the coconut oil in a sauce pan over low heat while constantly stirring (OR in a glass container in the microwave for about 1 minute) and stir to melt in any bits of unmelted chocolate until smooth.

Remove from heat and fold in the cacao nibs, salt, peppermint oil, and vanilla.

Poor the mixture on the parchment lined cookie sheet to create a thin layer. Use a rubber spatula to distribute the cacao nibs evenly.

Place the cookie sheet in the freezer at least 15 minutes or until solid.

Cut with a knife to create about 24 squares OR break into crunchy pieces with your hand. Keep pieces in a sealed container in the freezer until ready to eat (they will become very soft at room temperature).
Notes:
___________________________
The chocolate that I use called "Brain In Love" can be found

here

.
This is my husband's, Dr. Amen's, recipe. This chocolate is sugar free, gluten free, dairy free, cholesterol free, non GMO and good for your brain and body! Who said eating chocolate was bad for you. It's all about the type of chocolate you eat. You should always eat foods that love you back and this Brain In Love chocolate bar does just that.
Don't forget to use the code TANA21 for 21% off your first purchase from BrainMD (make sure you have an account and are signed in to use this offer).