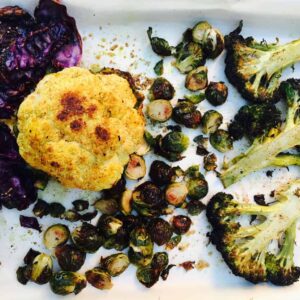 Nutrition Facts
Cruciferous Brassicas
Amount per Serving
% Daily Value*
* Percent Daily Values are based on a 2000 calorie diet.
Ingredients:
1

head

cauliflower

(about 4 cups)

1

head

red cabbage

(about 4 cups)

1

lb

brussels sprouts

1

lb

broccoli

4

tablespoons

macadamia nut oil

1

tablespoon

mustard seeds

salt & pepper

to taste

Nutrional Yeast

(optional)

onions

chopped (optional)

garlic, minced

(optional)

spices & herbs

(optional)
Directions:
Heat oven to 375F (convection bake or roast if possible).

Break up the cauliflower in florets.

Chop or tear the red cabbage into large chunks, removing the core.

Clean the Brussels sprouts and cut in half lengthwise.

Cut the broccoli into long filets or break up in florets.

Mix all the veggies together with macadamia nut oil and mustard seeds and toss on a sheet pan, or roast on individual sheet pans depending on the presentation and how well you want each item to be roasted.

Roast 10-20 minutes until crispy and lightly browned.
Notes:
Options: Throw in some chopped onions, minced garlic, any brain boosting spices and herbs you love. Sprinkle with Nutritional Yeast for a cheesy flavor. Serve in combination with some pickled and raw veggies as a crudité.
___________________________
Did you know that most people don't get the proper amount of Vitamin D3? Especially in the winter, this is a vitamin that the body readily converts to a hormone that is important for the brain, heart and circulation, immunity, bone, muscle, lung, joints, kidneys, and overall vitality. I take this every single day!
Click

here

to read more about our BrainMD Vitamin D3 5000 and add it to your cart today!
Don't forget to use the code TANA21 for 21% off your first purchase from BrainMD (make sure you have an account and are signed in to use this offer).