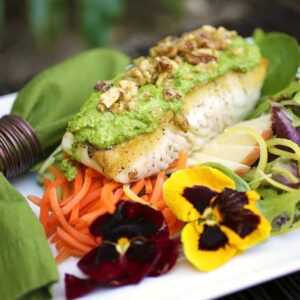 Nutrition Facts
Creamy Pesto Halibut
Amount per Serving
% Daily Value*
* Percent Daily Values are based on a 2000 calorie diet.
Ingredients:
1/4

cup

walnuts

1

teaspoon

garlic

fresh, minced

1

cup

fresh basil leaves

(or 1/3 cup dried)

1/2

cup

spinach leaves

1

tablespoon

olive oil

1/4-1/3

cup

almond milk

or 1/2 cup coconut milk

1

lemon

zested, reserve juice to squirt on the fish after it is cooked

1

teaspoon

ghee

(or macadamia nut oil or coconut oil)

4

4-ounce

wild halibut fillets

1/4

tsp

salt

(optional)

pepper

to taste (optional)
Directions:
PREPARATION FOR CREAMY PESTO :
In a food processor or blender, place walnuts, garlic, basil, and spinach and blend for 30 seconds.

Add olive oil, milk, and lemon zest and blend. Set aside.
PREPARATION FOR FISH:
Heat ghee or oil in large sauté pan over medium heat and sear halibut fillets on one side until a golden crust forms and the fish is done on the bottom, 1 to 2 minutes. Gently turn the fish and cover to finish cooking through, about 2 minutes. The fish is ready when it starts to flake.

While fish is cooking, in separate small saucepan, warm Creamy Pesto on medium-low heat and reserve until fish is cooked.

Place a fillet on each plate, drizzle with lemon and spread the pesto on top (about 2 tablespoons per dish).
Notes:
___________________________
Check out our products of Omega 3's here. Most people don't get an adequate amount of Omega 3's in their diet and that is devastating for your heart and overall health. My favorite is our Omega-3 power squeeze, I love putting it into my shakes every morning!
Don't forget to use the code TANA21 for 21% off your first purchase from BrainMD (make sure you have an account and are signed in to use this offer).