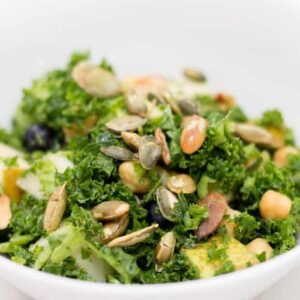 Nutrition Facts
Cool Kale Salad with Cilantro Dressing
Amount per Serving
% Daily Value*
* Percent Daily Values are based on a 2000 calorie diet.
Ingredients:
1/2

cup

cilantro

3

tablespoons

fresh orange juice

1

lime

juiced

1/4

cup

olive oil

salt and pepper

to taste

4

cups

kale

shredded

2

oranges

peeled and sectioned

3/4

cup

jicama

peeled and diced

1/2

cup

pumpkin seeds
Directions:
In a blender, place cilantro, orange juice, and lime juice. Pulse until cilantro is finely chopped.

With the blender running, slowly drizzle olive oil into the blender in a steady stream until blended well. Season with salt and pepper.

In a large bowl, mix shredded kale, orange sections, and jicama.

Pour the dressing over the kale mixture and toss to coat. Mix in seeds.

Refrigerate for 30 minutes before serving.
Notes:
Kale is one of my favorite greens. The greener the better- eat it every day! Everyone knows kale is great for you as it's one of the superfoods, but did you know pumpkin seeds are a source of pharmaceutical grade tryptophan and help fight insomnia?
___________________________
Did you know that most people don't get the proper amount of Vitamin D3? Especially in the winter, this is a vitamin that the body readily converts to a hormone that is important for the brain, heart and circulation, immunity, bone, muscle, lung, joints, kidneys, and overall vitality. I take this every single day!
Click

here

to read more about our BrainMD Vitamin D3 5000 and add it to your cart today!
Don't forget to use the code TANA21 for 21% off your first purchase from BrainMD (make sure you have an account and are signed in to use this offer).