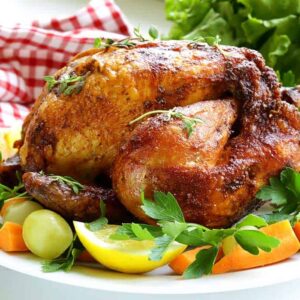 Nutrition Facts
Citrus-Roasted Chicken
Amount per Serving
% Daily Value*
* Percent Daily Values are based on a 2000 calorie diet.
Ingredients:
1

whole chicken with skin

free-range, hormone-free, antibiotic-free

2

cups

fresh lemon juice

about 8-10 fresh lemons

2

tablespoons

fresh sage

chopped

2

tablespoons

fresh thyme

chopped (or you may use any of your favorite herbs)

2

tablespoons

macadamia nut oil

1

tablespoon

sea salt

1/2

teaspoon

black pepper

or to taste
Directions:
Rinse chicken and pat dry.

In a bowl just large enough to contain the chicken, but with as little extra space as possible, pour the lemon juice, reserving about 2 tablespoons. Place the chicken in the lemon juice. If the chicken is not covered completely with lemon juice, you will need to turn it halfway through the marinating process. Cover the bowl and refrigerate for two hours.

Preheat oven to 350 degrees.

In a small bowl, mix sage, thyme, macadamia nut oil, reserved lemon juice, and sea salt (if desired).

After 2 hours, remove chicken from lemon juice marinade and place on a cutting board. Rub chicken evenly with herb mixture, covering both the outside and the inside cavity.

Place chicken upright on the roasting rack. Place the rack in a roasting pan and place in the oven. Placing the chicken upright allows the fat to drip down, yet allows the meat to remain tender. Bake for 1½ hours or until internal temperature reaches 180 degrees at the thighs.

Remove chicken from the oven, remove from roasting rack, lay flat, and cover with foil for 10 minutes to allow juices to redistribute.
Notes:
This recipe requires marinating the chicken for at least two hours. You will need an upright roasting rack for best results.
___________________________
Oranges have essential nutrients including Vitamin C.  If you are looking for more Vitamin C, BrainMD has an incredible liquid supplement called "Neuro-C Vitamin C". I put this in my shake every single morning without fail. This product provides major antioxidant defense, vitamin C is crucial for circulation, immunity, skin quality, peak mental performance, and overall well-being.
You can find more info about this supplement

here

.
Don't forget to use the code TANA21 for 21% off your first purchase from BrainMD (make sure you have an account and are signed in to use this offer).