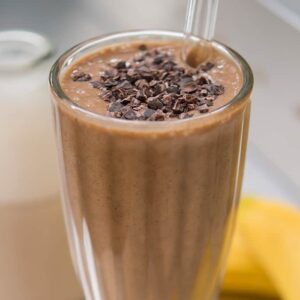 Nutrition Facts
Chocolate Protein Shake
Amount per Serving
% Daily Value*
* Percent Daily Values are based on a 2000 calorie diet.
Ingredients:
1/2

avocado

pitted and peeled (or 1 banana)

1/2

cup

almond milk

2

tablespoons

raw cacao

1

teaspoon

cinnamon

1

serving

plant protein

* (2 tbsp hemp seeds, 1 tbsp pea protein, 2 tbsp brown rice protein or other protein blend)

1

teaspoon

raw sweetener of choice

optional (raw coconut nectar, raw agave, raw honey, or 1-2 drops of liquid stevia)

1

teaspoon

chocolate bits

optional (sugar free, dairy free - Lily's brand is good)
Directions:
MAIN INSTRUCTIONS:
Blend all ingredients on high with ice and enjoy fresh after blending.

Optional: garnish with sugar free and dairy free chocolate bits.
FUN SUPERFOOD VARIATIONS:
Fresh mint leaves (2 tbsp) - fresh mint supports digestion

Maca root (1 tsp) - adults only: maca root stimulates hormone production

Spirulina (1 tsp) - spirulina is a green superfood that provides a rich source of oxygen for your blood

Gogi berry powder (1 tsp) - gogi berries are high in anti-oxidants and boost the immune system

Acai powder (1 tsp) - acai provides a quick boost of natural energy
NUTRITION NOTE:
You can easily enjoy a meal in a cup as long as it includes the following important ingredients for a balanced meal: a healthy fat, protein, fiber and a variety of vitamins and minerals. A full serving should be between 16 oz and 24 oz to count as a meal.
Notes:
*Plant proteins are the perfect base for a rich creamy shake and now there are many great options that are healthy and enjoyable for daily shakes. My favorite is Omni pea protein, but some Brain Warriors use hemp protein or brown rice protein. When shopping for the perfect protein powder for your shakes makes sure to take a close look at the label. There should be no additives or added sugars in your blend. Many people enjoy making their own fresh blends by buying one each of plain hemp, pea and brown rice proteins and creating a mix they can easily add each day.
___________________________
You can find our line of protein powder

here

.
Don't forget to use the code TANA21 for 21% off your first purchase from BrainMD (make sure you have an account and are signed in to use this offer).