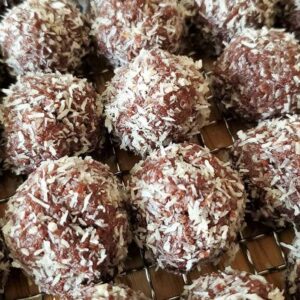 Nutrition Facts
Chocolate Go Go Bites
Amount per Serving
% Daily Value*
* Percent Daily Values are based on a 2000 calorie diet.
Ingredients:
2

cups

pecan meal

1/2

cup

raw coconut nectar

(or 1/3 cup almond butter and 1 dropper stevia)

1/3

cup

raw cacao

1/3

cup

coconut flakes

1

teaspoon

cinnamon

1/4

teaspoon

sea salt
Directions:
First create pecan meal by pulsing whole pecans into a meal in a blender or food processor and transfer to a mid sized bowl.

Blend your sweetener of choice, cacao, cinnamon and sea salt.

Pour the liquid mix over the meal.

Mix ingredients together with a spatula until well combined. (You can also do this step in a food processor if you have one available).

Roll the dough into 1 1/2 inch round bite sized pieces.

Roll the bites in coconut shreds.

Enjoy these bites fresh or dehydrate them for a longer shelf life.

To dehydrate place in an oven at the lowest setting for 45 minutes with the door cracked open or place in a dehydrator and set at 115 degrees for 2 hours. Once dried you can store in an airtight container out of the refrigerator for up to 3 weeks.

If enjoying fresh store in the refrigerator for best results.
Notes:
Every Brain Warrior should be armed with fresh chocolate for those tough days when you need an extra boost. This recipe will be sure to have you on top of your game when it comes to thriving through a busy week. The extra minerals in the raw cacao will also boost your endocrine system and provide some additional energy producing B-vitamins. The main ingredient in this recipe besides chocolate is pecan. Pecans are rich in essential fatty acids and full of Vitamin E and more B-vitamins.
These are simple to make in advance and can be stored in an airtight container for up to 3 weeks for easy snacking on the go.
___________________________
The chocolate that I use called "Brain In Love" can be found here. This is my husband's, Dr. Amen's, recipe. This chocolate is sugar free, gluten free, dairy free, cholesterol free, non GMO and good for your brain and body! Who said eating chocolate was bad for you. It's all about the type of chocolate you eat. You should always eat foods that love you back and this Brain In Love chocolate bar does just that.
Don't forget to use the code TANA21 for 21% off your first purchase from BrainMD (make sure you have an account and are signed in to use this offer).