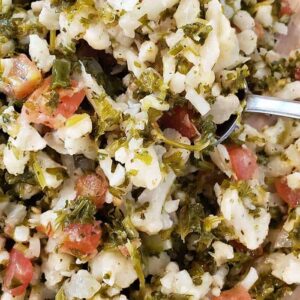 Nutrition Facts
Cauliflower Tabouli
Amount per Serving
% Daily Value*
* Percent Daily Values are based on a 2000 calorie diet.
Yield:
4
(snack-sized servings)
Ingredients:
2

Roma tomatoes

1

head

cauliflower

(roughly 2 cups cauliflower florets)

1

head

parsley

2

lemons

2

cloves

garlic

minced

2

teaspoons

sea salt

1/2

teaspoon

cumin
Directions:
On the cutting board, dice Roma tomatoes and add to mid-sized mixing bowl.

Chop the cauliflower into rice sized pieces and add to the bowl with the tomato.*

Chop the parsley fine and add to the bowl of mix.

Juice the lemons and add the juice into the bowl**.

Add in the remaining ingredients and toss well.

Let sit in the refrigerator before serving.
Notes:
*Variation: For softer cauliflower pieces, blanch the cauliflower before chopping into rice sized pieces, by cooking in boiling water for 3 minutes. Strain and chill before chopping and adding to the recipe.
** Pro Chef Tip: To quickly and easily juice lemons follow these steps: 1) Roll back and forth on a cutting board to soften the citrus, 2) Cut in half, 3) Insert a fork inside the citrus in the center and twist the fork while squeezing your hand over the bowl, repeat until all the juice is expressed.
Cauliflower makes a perfect plant powered base for this grain free snack. The fresh herbs in tabouli provide beneficial minerals like calcium, iron and potassium while the cauliflower and citrus work together to support an anti-inflammatory diet.
I recommend to make this one day before serving as the flavors blend together even more as this dish sits in the refrigerator. This dish is a great weekly add in that will stay fresh for up to 7 days.
This dish is easily enjoyed as a vegetable side dish along side your choice of protein, as a snack with some baked chips, or as a filling on fresh lettuce cups.
Makes 16oz.
___________________________
If you are looking for a clean and fast-acting energy source for peak brain and body performance, you need to try our Brain MCT energy supplement. This is a liquid that can also assist with maintaining a stable weight. By enhancing satiety, which restrains appetite and promotes fat burning, MCT can be helpful for curbing unhealthy eating and stabilizing body weight.
You can find this product

here

.
Don't forget to use the code TANA21 for 21% off your first purchase from BrainMD (make sure you have an account and are signed in to use this offer).