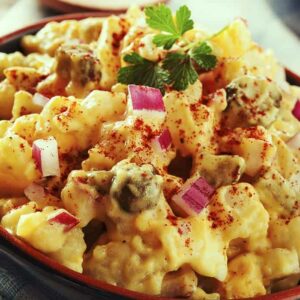 Nutrition Facts
Cauliflower Potato Salad
Amount per Serving
% Daily Value*
* Percent Daily Values are based on a 2000 calorie diet.
Ingredients:
1

cauliflower head

large (about 4 cups medium to large diced)

1

tablespoon

macadamia nut oil

3

ribs

celery

(about 1 1/2 cups small diced)

1/2

red onion

(about 1/2 cup small diced)

1

cup

cilantro

chopped

1/2

cup

vegenaise or mayonnaise

organic sugarless

1/4

cup

Dijon mustard

organic (yellow or grain mustards are great too)

1

tablespoon

smoked paprika

1/2

teaspoon

ground black pepper

salt

(optional) - to taste
Directions:
Preheat oven to 375F (convection roast is great)

Line a rimmed cookie sheet with parchment paper. Toss the cauliflower pieces with macadamia nut oil and spread out on the sheet. Bake for about 15 minutes or until browned and roasted, but not dark. Once roasted, remove from the oven to cool completely

In a large mixing bowl, combine the diced celery, red onion, chopped cilantro, mayonnaise or vegenaise, mustard, paprika, salt and pepper. Hold in refrigerator until cauliflower has completely cooled.

Fold cauliflower into mayonnaise mixture and enjoy!
Notes:
Note:  When shopping for mayonnaise, choose sugarless, without unnecessary preservatives, and use the best, cold-pressed oils (NOT canola, safflower, soy, or vegetable oils).  Better yet, make your own by blending olive oil (or avocado oil, or macadamia nut oil), with a light vinegar and yolks from a couple of hard boiled eggs.  Or use fresh avocado and a little lemon juice. No egg required!
Variations:  Add any of your favorite chopped herbs like basil, parsley, and thyme. For brain boosting benefits add turmeric, coriander, fresh garlic, minced red bell peppers, and some shredded beets.  You could also add a bit of you favorite chopped leafy greens and some pumpkin seeds for healthy fats and more crunch!
Check out my selection of delicious and healthy recipes in The Brain Warrior's Way cookbook. Remember for Brain Warriors there is no deprivation, just an abundance of mouth-watering food that serves you.
___________________________
Did you know that most people don't get the proper amount of Vitamin D3? Especially in the winter, this is a vitamin that the body readily converts to a hormone that is important for the brain, heart and circulation, immunity, bone, muscle, lung, joints, kidneys, and overall vitality. I take this every single day!
Click

here

to read more about our BrainMD Vitamin D3 5000 and add it to your cart today!
Don't forget to use the code TANA21 for 21% off your first purchase from BrainMD (make sure you have an account and are signed in to use this offer).