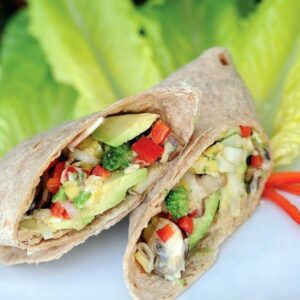 Nutrition Facts
Brainy Breakfast Burrito
Amount per Serving
% Daily Value*
* Percent Daily Values are based on a 2000 calorie diet.
Ingredients:
1

whole

egg

1

egg white

1

teaspoon

coconut butter or raw organic butter

1

leek

cut in half moons (white part only)

1

garlic clove

minced

1/4

cup

red bell pepper

chopped

1/4

cup

crimini mushrooms

sliced

1/4

cup

broccoli

chopped

leaves

romaine/Iceberg lettuce

(or coconut wrap)

1

tablespoon

salsa

1/4

avocado

sliced

1

coconut wrap

curry or plain (optional)
Directions:
In a small bowl, whisk egg and egg whites.

In a medium skillet, heat coconut butter over medium heat.

Add leek and garlic to the skillet, and sauté for 1 minute.

Add bell peppers, mushrooms, and broccoli to the skillet, and cook for 2 to 3 minutes.

Add eggs to the skillet, and stir until cooked through.

Double up romaine leaves and spread with salsa. Top with avocado. Wrap egg mixture in romaine lettuce leaves.

If using coconut wraps, warm in the microwave for 20 seconds. Spread each wrap with 1 tablespoon of salsa, divide egg mixture, and top with sliced avocado. Roll up and serve immediately.
Notes:
In the Amen household, we typically "go green" when we eat burritos. That means we use romaine lettuce leaves as a wrap to increase veggie intake and cut calories. If you prefer tortilla style, use a coconut wrap (curry or plain) for extra nutritional value.
___________________________
If you are feeling like you need something extra to fight anxiety and feel more calm and happy, you need to check out our Gaba health calming support supplements. I take this almost everyday and it helps me so much. You can find this here.
Don't forget to use the code TANA21 for 21% off your first purchase from BrainMD (make sure you have an account and are signed in to use this offer).