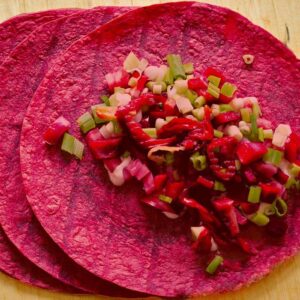 Nutrition Facts
Beet & Cauliflower Tortillas
Amount per Serving
% Daily Value*
* Percent Daily Values are based on a 2000 calorie diet.
Yield:
12
small tortillas
Ingredients:
2

tablespoons

macadamia nut oil

1/2

head

cauliflower

(about 2 cups large chunks)

1

red beet

large (about 2 cups large chunks)

1 1/2

cup

almond meal

6

eggs
Directions:
Preheat oven to 375F (convection bake is ideal)

Line two or three cookie sheets with parchment paper. Drizzle on a light coat of macadamia nut oil to keep tortillas from sticking.

Cut the cauliflower and beets into large chunks. Using a food processor, chop until they are a red mealy consistency.

Put the cauliflower beet meal into a thin kitchen towel (like flour sack towels) or in paper towels and wring out as much moisture as possible.

In a medium bowl, combine the wrung cauliflower beet mixture, almond meal, and eggs until you have a thick batter.

Scoop about 1/4 to 1/3 cup of batter and place it on a quarter of the cookie sheet. Using your fingers, press the batter out into a smooth circle to create a thin small tortilla shape.

Bake for about 8 minutes. Remove from oven and flip tortillas. They should be lightly browned on the bottom. Put back in oven for another 5 minutes. Remove from oven and let sit 2-3 minutes.

When properly cooked, tortillas will bind together to create a nice little wrap for tacos, a substitute for pita bread for your favorite Mediterranean or Middle Eastern dish, or serve as naan with a yummy curry.
Notes:
For filling see Nutritious Taco Meat,  Beets 'N' Sweets Nachos, or Beet Street Chicken Tacos.
___________________________
Beets have essential nutrients including Vitamin C.  If you are looking for more Vitamin C, BrainMD has an incredible liquid supplement called "Neuro-C Vitamin C". I put this in my shake every single morning without fail. This product provides major antioxidant defense, vitamin C is crucial for circulation, immunity, skin quality, peak mental performance, and overall well-being.
You can find more info about this supplement

here

.
Don't forget to use the code TANA21 for 21% off your first purchase from BrainMD (make sure you have an account and are signed in to use this offer).