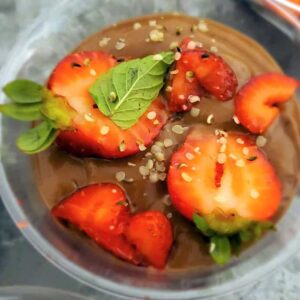 Nutrition Facts
Avocado Cacao Pudding
Amount per Serving
% Daily Value*
* Percent Daily Values are based on a 2000 calorie diet.
Ingredients:
4

cups

avocado

2

cups

strawberries

fresh, chopped

1 1/4

cup

water

1/2

cup

raw agave nectar

1/2

cup

raw cacao powder

(or more if you like a dark chocolate flavor)

1

teaspoon

cinnamon

1/2

teaspoon

sea salt
Directions:
Blend all ingredients save strawberries in a basic blender.

Blend until rich and creamy. Make sure to taste your pudding and see if you would like to add in any additional chocolate before completing the blend.

Portion out into 6 equal cups.

Top with chopped strawberries and chill.

Enjoy after chilling for at least 20 minutes.

Chef Tip: This particular blend will be sweeter to the taste after it is chilled. Make sure you account for this when tasting the mixture as you finish off blending.
Notes:
Avocado makes a nice rich and creamy base that you can blend with raw cacao for a versatile creamy chocolate pudding! When I first heard this I thought people must be crazy to combine these two delicious foods into one recipe but it turns out they were right! This particular recipe can be enjoyed fresh as a pudding and can also be frozen into a popsicle! Feel free to get creative by topping with fresh fruits in season and other superfoods to boost the nutrition in this healthy dessert.
___________________________
If you are feeling that you need a little support with making better choices when hunger strikes, you should try our Craving Control supplements. Anyone who has ever tried to make better choices knows all too well how cravings can sabotage the best intentions. Craving Control contains all-natural ingredients that help to calm the craving centers in our brain, balance blood sugar and promotes a positive mood. You can find these

here

.
Don't forget to use the code TANA21 for 21% off your first purchase from BrainMD (make sure you have an account and are signed in to use this offer).