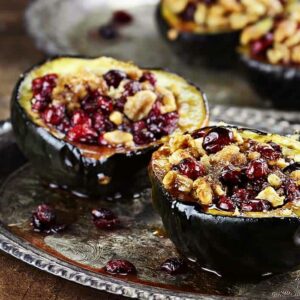 Nutrition Facts
Amen Holiday Stuffing
Amount per Serving
% Daily Value*
* Percent Daily Values are based on a 2000 calorie diet.
Ingredients:
1

tbsp

ghee or grass fed butter

4

cups of

butternut squash

peeled and cubed

1

medium onion

diced

1

apple

diced

4

stalks celery

diced

2

cloves

garlic

minced

1

teaspoon

salt and pepper

to taste, about 1/2 each

1

lb

extra lean ground turkey or bison

1

tablespoon

fresh rosemary

finely chopped

1

tablespoon

fresh thyme

finely chopped

1

tablespoon

fresh sage

finely chopped

2

cups

walnuts

finely chopped

1

cup

pomegranate seeds

(optional)

2

eggs

beaten (optional for richer stuffing)

1

cup

almond flour

(optional for richer stuffing)

1/2

cup

chicken broth

(optional for richer stuffing)
Directions:
Preheat oven to 375 degrees F.

Melt the ghee or butter in a large skillet placed over medium-high heat. Sauté the butternut squash, onion, apple, celery, and garlic for about 10 minutes, and season to taste with salt and pepper. Remove from pan and set aside.

Add turkey to the pan and sauté for about 2 minutes. Add a bit more ghee if necessary.

Add herbs, walnuts, and season with salt and pepper. Mix well.

Remove meat from heat. The meat should still be somewhat pink. The meat will finish cooking in the oven.

In a large bowl, combine squash, meat mixture. Add optional ingredients (pomegranate seeds, eggs, almond flour and chicken broth) as desired. Mix thoroughly.

Put the mixture in a baking dish and bake uncovered for 30 to 45 minutes or until squash is tender.
Notes:
This delicious, healthier version of traditional stuffing is a favorite in our house. It's so complete that we often eat it as a main course, topped with a bit of gravy and a big salad. Make this a vegan stuffing by increasing the amount of squash, apple, and nuts and eliminating the meat.
___________________________
If you are looking for a clean and fast-acting energy source for peak brain and body performance, you need to try our Brain MCT energy supplement. This is a liquid that can also assist with maintaining a stable weight. By enhancing satiety, which restrains appetite and promotes fat burning, MCT can be helpful for curbing unhealthy eating and stabilizing body weight.
You can find this product

here

.
Don't forget to use the code TANA21 for 21% off your first purchase from BrainMD (make sure you have an account and are signed in to use this offer).